MobiKwik SuperCash Zomato Offer
Get 50% Cashback Up To Rs.75 | Used MobiKwik SuperCash Zomato
---
[Loot Offer] MobiKwik SuperCash Zomato Offer – Zomato Mobiikwik Supercash Use, Use Zomato SuperCash, Use 100% Zomato SuperCash Loot Now. Get 50% OFF Upto ₹75 + Used 100% SuperCash Upto ₹75 On Zomato Food Order. New Special Day Of In MobiKwik Zomato Loot Offer Food Order Using Via MobiKwik SuperCash Wallet Balance.
If You Can Use A In Your Mobikwik Supercash 100% Upto Rs.75 Only and Zomato Food Order It Now. Tham 100% MobiKwik SuperCash From Download Zomato App and Combine Launching Offer Discount + Cashback Loot Lo Dosto.
Use 100% SuperCash Up To Rs.75 Date Of Time At 7 PM – 11 PM On 23rd April 2021. This Is a Offer Valid on A Minimum Order Food Amount Is Rs.100 and Maximum SuperCash That Can Be Used Is Capped At Rs.100 Only.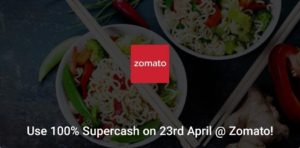 Hi, Guys For Free Recharge Tricks Members, If You Zomato Food Order & Get Flat ₹75 Cashback On MobiKwik SuperCash Wallet Balance and MobiKwik Zomato Loot Successfully Payment Now.
---
MobiKwik SuperCash Zomato Offer – Used 100% Upto ₹75 @SuperCash Wallet Balance
1. First Of All, Download MobiKwik App For Below Link Here –
2. Sign-Up & Login In Your Zomato Exciting Account
Now –  7 PM – 11 PM Use 100% SuperCash @ Zomato At 23rd April 2021!
3. Then Go-To Visit Zomato "Website" Or "App" For Given Link Here –
I Am Recommend For Old Zomato Users In Apply This Tricks & Offer
4. Select Any "Restaurant" & Choices In Your "Food" For Minimum Amount Of ₹100-/
5. Also, The Go-To "View Cart" In Your Food & Place Order Now
6. Apply Discount Coupon Code ZOMAZTO | CUPID (50% OFF Adjustment)
7. Proceed To "Payment" Used MobiKwik Super Cash Wallet Balance For Payment MobiKwik Wallet
Note – Add Money In Mobikwik, Don't Worry Just Add the Amount & Pay, Your ₹100 Will be Debited From Supercash Only.
Don't Apply Any Code Required Otherwise Not Cashback!
8. Done Successfully, Complete Your Food Order & Delivery Food In Your Address Just Wait Few 10-15 Minutes
9. You, Will, Get ₹75 Cashback On Credited In Your MobiKwik SuperCash Wallet Balance Instantly.
---
---
---
Terms & Conditions –
1. Use 100% Supercash between 7 PM – 11 PM on 23rd April 2021
2. Offer valid on a minimum order amount of Rs.100
3. Maximum SuperCash that can be used is capped at Rs.75
4. SuperCash cannot be used on payments outside of a campaign hours on 25 December 2019
5. Available balance reflecting on Zomato checkout is not inclusive of usable SuperCash balance. On successful payment, SuperCash will be automatically adjusted
6. For users who have completed KYC with OTP verification
7. SuperCash redemption is capped at 1000/month
8. Users who have submitted details without OTP verification (minimum KYC) can use up to 100 SuperCash/month
9. Users without any form of KYC can use Rs.75 SuperCash/month
10. Other limits for Super Cash redemption apply
11. If your order is canceled or left undelivered at Zomato's end, Zomato (not Mobikwik) will initiate a refund
12. After the refund is initiated, the amount will be credited back to wallet within 7-10 days
13. Both Zomato & MobiKwik reserve the right to cancel/change modify/add/delete any of the terms and conditions of the offer at any time without notice
14. BSNL & Bajaj wallet apps are powered by MobiKwik. You can select MobiKwik at merchant checkouts to avail offers & use your wallet money!
---
Conclusion –
The Zomato And Mobiwkik Combined Mix Via Launch MobiKwik Zomato Loot Offer In 100% Flat Cashback On Used For Balance In Mobiwlkik SuperCash Wallet. This Tricks For MobiKwik SuperCash Zomato Offer Related Any Question & Problems Below Comments Now!