Airtel Thanks Apollo 247 Circle Membership Free – Airtel Thanks Rewards Apollo 24|7 Free Membership at 3 Months and Get 100 Credit Balance. Now, New Latest Airtel Thanks Rewards For All Airtel Users and Great Rewards in an Apollo 247 Circle Membership Free With Shopping Anything Worth ₹100 For FREE. You Can Use 100% of this Health Credits Balance.
Airtel Thanks App Very Special Rewards In a GRAB It Now!!! 3 Months Apollo Circle Membership For Worth Rs.99 But This is Absolutely for 100% Free and No Any Paying Of Cost and Free Medicine Delivery or Within 2 Hours Delivery Free Medicine. Now, This Acess to Doctor Consultation in 15 mins. Up to 60% Discount On Lab Test.
This is Maga Loot Offer For Applicable On Airtel All The Users But All Your Active Recharge Plans and Maximum Recharge On Your Airtel Mobile Number Rs.249 Or Above Recharge Users You Can GRAB This Loot and Enjoying this Offer. Last Time Loot For Airtel Thanks Rewards – FREE ₹100 CoinSwitch Kuber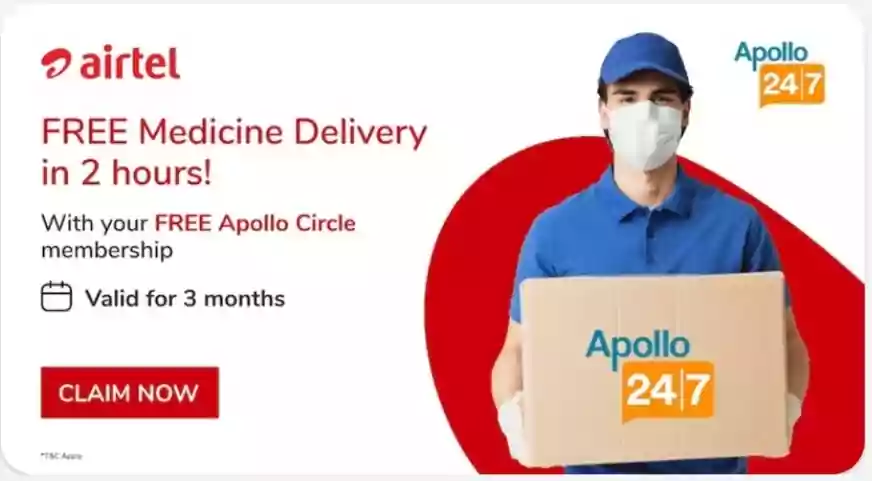 Priority access to top Apollo doctors & 15% discount on consultations, Great savings on medicines & FREE 2-hour delivery. Exclusive CIRCLE cashback on Apollo Pharmacy & Apollo Products and Up to 60% discount on doorstep diagnostic tests.
Complimentary Access to upcoming URLife Wellness Program & Apollo ProHealth Program. FREE 2-week trial to Apollo Advanced Diabetes Management Program and 3 months free trial for Airtel Gold customers, 12 months free trial for Airtel platinum customers
Airtel Thanks Apollo 247 Circle Membership Free and Get Rs.100 Health Credits
Step 1: Update Airtel Thanks App From Google Play Store:
Step 2: Open Airtel Thanks App Now for "All Airtel Users"
Step 3: Login Account > Enter Airtel Mobile Number With Verify OTP
Step 4: Home Dashboard Interface & Click On Discover Airtel Thanks Option (Offer is Showing In Almost All Airtel Accounts if You Have Recharged For ₹249+ Plan)
Step 5: Looking for Your Reward to Claim Apollo 24|7 Circle Membership For Free
Step 6: I Agree to Tick Mark & Click On Claim For Free Button Now
Step: 7: Now, You Have Done Payment Successful! For Free Of Cost
Step 8: Go To App For Apollo 24|7 Circle Now and Next All The Steps Below
How To Activated Apollo 247 Circle Membership and Rewarded Rs.100 For Shop Now
Step 1: Apollo 24|7 App Download From Google Play Store Here:-
Step 2: Open This App > Please Enter Your Same Airtel Mobile Number With Verify OTP and Login Successful Account
Step 3: Get Access to Apollo Circle Membership For Free At 3 Months
Step 4: Instantly Activated Membership But Maximum Time to Within 30 Minutes Active & Created Rewarded
Step 5: You WIll, Rewards Get Rs.100 and You Can Use 100% Redemabel this 99.96 HC Circle Points
Step 7: Now, Use The Points and Purchasing These Any Items Worth Rs.100
Step 9: Add To Cart > Proceed To Payments Circle Points (Health Credits) Via
Step 10: Fill in The Delivery Address > Continue to Order Successfully Complete
Step 11: You Will, Enjoying This Shop and Delivery Your Products Within 3 -5 Days
My Suggestions for Buying This item Very Low Price Available Now: Colgate Toothpaste, Hajmola, Eno, Cotton, Bandaid, 10 soap or 1 Gillette Guard Etc.
Benefites:
Online Doctor Consultations: 24|7 Emergency Doctor on Call, 15% Discount on consultation, Preferential Access to Covid-19 Care
Medicines & Healthcare Products: Great Savings on Medicines, FREE 2-Hour Delivery, Exclusive CIRCLE Cashbacks on Pharmacy Orders
Diagnostic Tests: Up to 60% Discount on Doorstep Diagnostic Tests, Home Sample Collection, Fast & Accurate Reports
Healthcare Programs: Complimentary Access to Apollo ProHealth Program and upcoming URLife Wellness Program, FREE 2-Week Trial to Apollo Advanced Diabetes Management
Terms & Conditions- Circle Membership Program
1. Circe Membership Program is the marketing program (Program) offered by Apollo 24/7, a digital platform managed by Apollo Hospitals Enterprise Limited (AHEL)
2. The validity of the program ("Term") will be as per the plan selected by the customer
3. The discounts and cashback offered under the program shall be applied at the time of payment checkout by the customer.
4. The offerings under the program will differ with the different categories as may be selected by the customer. 6. The program is non-transferable
5. The benefits for the program will be provided within 24 hours service delivery/fulfilment of completing the transaction.
6. By enrolling the Program, a member consents to allow AHEL to use, disclose, stote, process, review, transfer, share etc, of his/her personal and other sensitive personal data or information as provided by the member at the time of enrolment by AHEL or any of its subsidiaries, associates, affiliates or group Companies
7. As a prerequisite to becoming a member of the Program, a customer is required to provide mandatory information including full name, valid and active Indian mobile number. He/she shall be governed by such terms and conditions as may be prescribed for membership from time to time.
8. The Program will be issued solely at the discretion of the management and the final discretion on all matters relating to the membership shall rest with AHEL 11. AHL reserves the right to add, alter, amend, modify and revise the aforesaid terms and conditions at any time and in its sole discretion without prior notice, intimation, and permission.
9. Benefits and offers available through the program may be changed or can be withdrawn/discontinued either temporarily or permanently) without prior notice, intimation, or permission Customer agrees that AHEL will not be responsible or liable, in any manner, for any liability, losses, damages, injuries, or expenses incurred by the Customer, arising from such change or withdrawal or use of such offers.
10. The Programme cannot be canceled by the member and the member is not eligible for a refund and cancellation of the fees. In special circumstances, the request for cancellation may be considered by the management on case to case basis and the fees may be refunded to the member at sole discretion of the management
12. Any disputes arising out of the program shall be governed by the laws of India. Any legal action or proceedings related to this Program shall be subject to the exclusive jurisdiction of the courts at Chennai, All disputes shall be subject to arbitration by a sole arbitrator appointed by AHEL for this purpose.
12. The proceedings of the arbitration shall be conducted as per the provisions of the Arbitration and Conciliation Act, 1996, or any statutory modifications and alterations thereto. The place of arbitration shall be at Chennai and the language of the arbitration shall be English. The existence of a dispute, if at all, shall not constitute a claim against AHL
13. if any customer has any grievance, comment, question, or suggestion regarding any of the terms of this Program, please contact our team through the help section available in my account page
14. If any provision of these Terms and conditions is deemed invalid, unlawful, vad or for any other reason. unenforceable, then that provision shall be deemed severable from these Terms and conditions and shall not affect the validity and e